Kaleidotrope is written by Aja and EarlGreyTea68 and stars James Evans as Drew and Matthew Menendez as Harrison. Our art is created by Joy Yang.
AJA
Aja is a longtime member of fandom and writer of fanfiction, particularly within Harry Potter, Inception, and various anime and RPF fandoms. Within fandom they co-created the now-ubiquitous Big Bang Challenge in 2005, dragged a lot of people into Prince of Tennis, served as Submissions Editor for the Big Bang Press, and volunteered for 4 years for the OTW. They are a culture reporter at Vox and frequent invited speaker on pop culture topics. They don't worry enough about bios. Find them on AO3, Tumblr, and Twitter.
EGT
EarlGreyTea68 is a longtime member of fandom and writer of fanfiction, particularly within the Doctor Who, Sherlock, and Inception fan communities. Her popular HGTV universe has generated its own sub-fandom on AO3, where it lives as a giant eternal comment party that will probably one day grow a vast Lovecraftian maw and consume all that it touches. In other worlds she's a successful writer of Young Adult and Women's Fiction novels. She worries too much about bios. You can find EGT's fic on AO3 and talk to her on Tumblr or Twitter.
JAMES (DREW)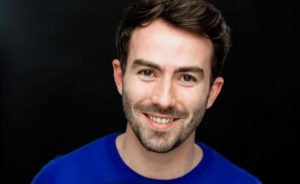 James Evans is a recent graduate of the American Academy of Dramatic Arts, where he was awarded the Lawrence Langner award for Voice and Speech. Prior to coming to New York, James studied English Literature at the University of Cambridge, co-founded Recursion Theatre Company, and brought several sell-out shows to the Edinburgh Festival Fringe. James has a particular focus on Shakespearean and classical theatre, and has previously appeared in productions of Macbeth, Hamlet, Dr. Faustus, and Oresteia. Follow him on Twitter and Instagram.
MATTHEW (HARRISON)
Matthew Menendez is a New York-trained actor, from the Conservatory of Dramatic Arts, hailing from St. Louis. Matthew got his start on stage in productions Empress of Sex and Pageant Tales and Beauty Fails and has starred in indie films such as Strapped for Danger and Canvas of Death, and in web series Long Island Lights and The Uncanny Upshurs. Follow him on Twitter and Instagram.
JOY YANG (ART)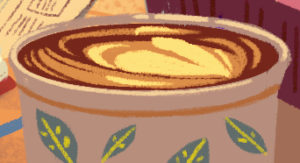 Joy Yang is a New York based illustrator interested in skeletons. Their work focuses primarily on normalizing queer existence in society.
Sound Effects Wizards
Kaleidotrope owes thanks to a litany of stock sound effects creators who've allowed us to use their work. These include:
Lena Orsa – creator of the delightful orchestral ditty you hear each week in our outro music and prominently in our trailer.
Setuniman and Jim R.S. Bjorklund, who together provided the opening music and drums you hear in our trailer.
Symphoid and Sirkoto51, who contributed the creepy musical segments you hear in our trailer.
Miscellaneous musical and sound effects by FoolBoyMedia, Vendarro, eardeer, Herbert Boland, filmsandfx, SoundsExciting, JakLocke, AlKerr, richiemcmullen, samuelbflynn, theuncertainman, jukkis111, and jagadamba.